RustDroid: Rcon Protocol Indicator
A question we have to ask you guys all the timer once you reach out for support to mail@iogames.de is:
On what Rcon-Protocol is your server on?
This allows us to have a deeper look on your problem to help you even better.
So, this is how your server looks like within the app and there is actual an icon somewhere on the screenshot showing you what protocol your server is on. In this example we have 2 rust-servers added for remote control in the app: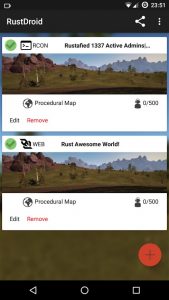 One of those is on the WebRcon protocol that is quite new to Rust, and one is being on the former "Source" based Rcon protocol which is still being used by the majority of our users but isn't as smooth as the WebRcon protocol.
So which one is what you may ask then, here we go:
This is how a WebRcon controlled server looks like: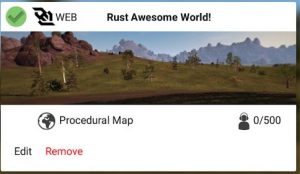 And here is a SourceRcon server: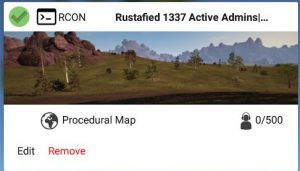 On a closer look you can notice the rcon protocol indicator at the top left corner, this is how you know on what protocol your server runs on.
If you are still running your server on SourceRcon, you should better switch, server admins have been reported server crashes when using this protocol for controlling your server.